GDR border barriers
at Jungfernsee lake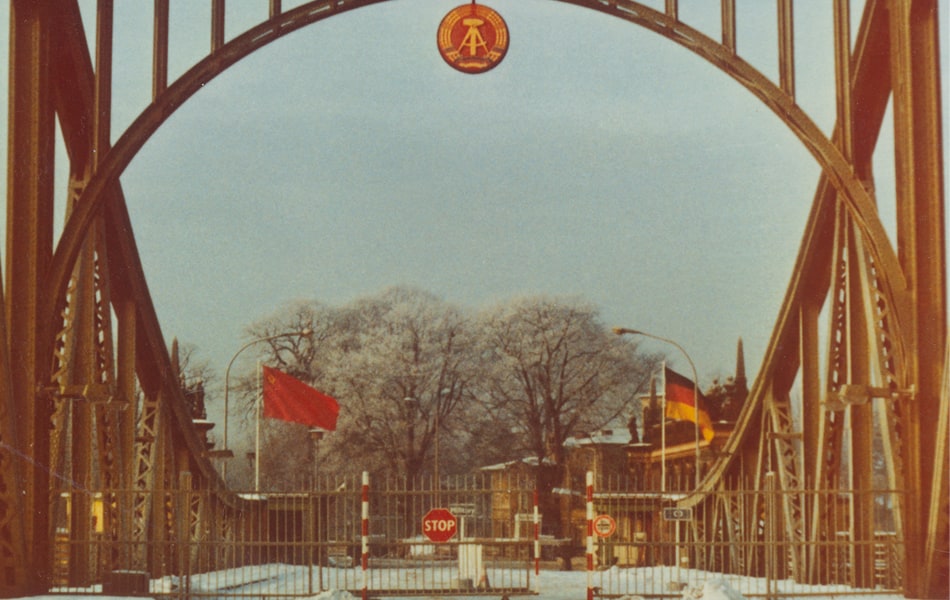 The Allied checkpoint at Glienicke Bridge (seen from West Berlin in the 1980s) - Photo: Archiv Hans-Dieter Behrendt
On August 13, 1961, the government of the GDR sealed off the border to West Berlin. The border facilities erected had a total length of 156.4 km (97 miles), of which 112.7 km (70 miles) divided West Berlin from the Brandenburg hinterland, the so-called Outer Ring. A 43 km (27 mile) border existed between West Berlin and the city and district of Potsdam, 7 km (4.5 miles) of which ran along or through bodies of water. The continual expansion of the frontier barrier gave rise to a nearly impenetrable border-security system. At least 140 individuals were killed at the Berlin Wall or died in connection with the GDR border regime until the year 1989. The border running from Bertinistrasse to Teltow by way of Griebnitzsee lake and Kleinmachnow was guarded by »Walter Junker« Border Regiment No. 44 under the Central Border Commando (Grenzkommando Mitte) of East German border troops.
Glienicke Bridge connects Berlin and Potsdam. In GDR times it was officially known as the »Bridge of Unity«. Its eastern end was located in the West and its western end in the East. The bridge became a symbol of the Cold War since the border ran right down the middle of it. It was closed to civilian automobile traffic in 1952. After the construction of the Berlin Wall, the bridge could only be crossed by military personnel or with a special permit. Not until 1985 did the GDR set up a border crossing for diplomats accredited in the GDR. On November 10, 1989, at 6 p.m, one day after the Wall fell, Glienecke Bridge was finally reopened to the general public.
The bridge achieved international fame as a place for spy swapping between the United States and the Soviet Union. On February 10, 1962, the American pilot Francis Gary Powers was exchanged for top Soviet agent Rudolf Ivanovich Abel. Powers had been shot down on May 1, 1960 while flying a U-2 reconnaissance plane over Soviet airspace. Abel had been spying in New York for the KGB for nine years before being arrested in 1957. Two further swaps took place in 1985 and 1986.
Villa Schöningen, built between 1843 and 1845 by Ludwig Persius, is located right next to Glienicke Bridge. It was used by the Soviet army after the war as a military hospital for soldiers. From 1950 to 1994 it housed an all-week nursery and daycare center located in the heavily restricted border zone during the GDR. A museum was opened at the villa in 2009 with a multimedia permanent exhibition on the history of Glienicke Bridge and the villa, as well as hosting temporary exhibitions.