Passport and customs
control at
Bertini strait
Pontoon barrier of the Nedlitz maritime border crossing (ca. 1985) - Photo: BStU, MfS HA II Fo 0810 Bild 09
In 1964, a maritime border crossing was set up at Bertini strait. It was responsible for customs clearance and passport inspection of inland waterway transport to and from West Berlin. Passage was blocked by two anchored barges. This was replaced by a large pontoon barrier in 1974. The pontoon was equipped with chain nets that could be lowered into the water to prevent escape by underwater divers.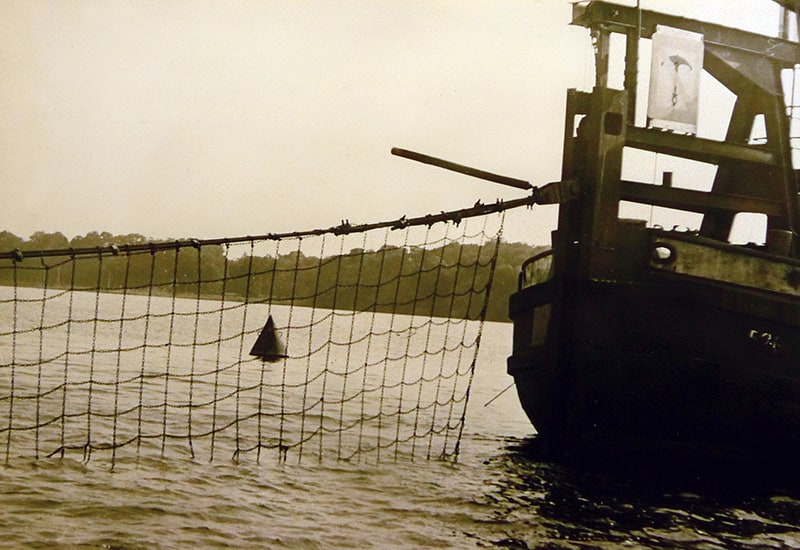 The chain net at the entrance and exit to West Berlin was operated by a cable winch (1970/1) - Photo: Bundesarchiv BA-MA DVH/51/6/134991 Bild 04
Altogether the border zone comprised an area of 55 hectares, extending from the surveillance tower at Bertini strait to a second tower at the western end of the so-called »area of control«, just below Villa Jacobs.
Customs and passport inspectors searched every transport vessel with tracking dogs. A cable winch, operated from the control tower at Bertini strait, was used to raise the chain net in the shipping lane. The tower is now a historical monument. The building housing the diesel generator, which provided emergency power to the border crossing, ensuring that the lights, winch, signal fence and alarms functioned, has also been preserved. Three lampposts with platforms are likewise still in existence, and yet another lamppost is hidden behind the generator house.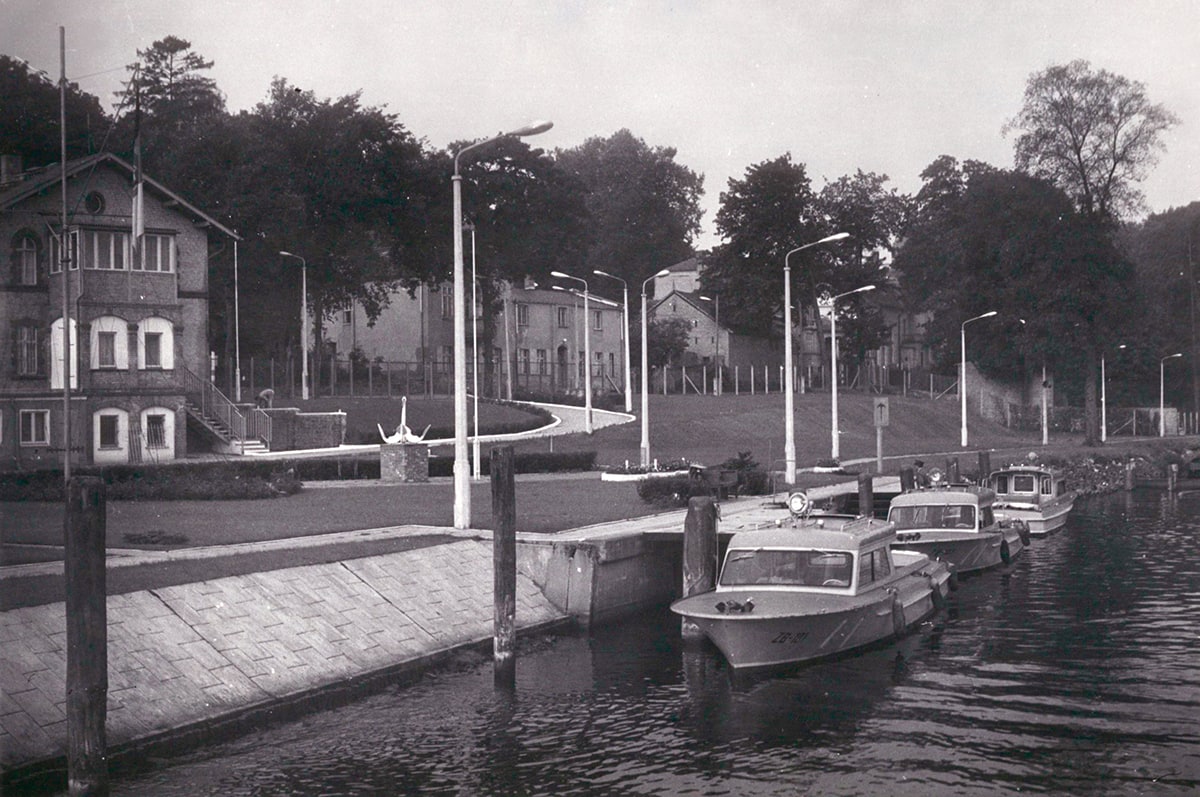 The passport-control and customs-clearance office was housed in the building of the first Potsdam waterworks (undated) - Photo: BStU, MfS HA VI 86 Bl. 21
The passport-control and customs-clearance office at the Nedlitz–Bertini-strait border crossing was housed in the former building of the first Potsdam waterworks. The building was initially used as the main office of the Waterways Bureau. Apart from a built-on garage, which was torn down only in 2015, a number of other buildings were erected in the area – e.g., recreation rooms with a kitchenette and cages for the tracking dogs used by customs officials.
There are at least two successful escapes on record despite these strict controls. In 1972, an individual in Magdeburg managed to board a freighter and was hidden by the crew in the ballast area until the vessel reached West Berlin. In 1986, a young man slipped unnoticed through a rust hole in the underwater barrier of the border crossing, reaching the West Berlin shore 2 km (1.2 miles) later, north of Glienicke Bridge.