Maritime
border crossing
at Nedlitz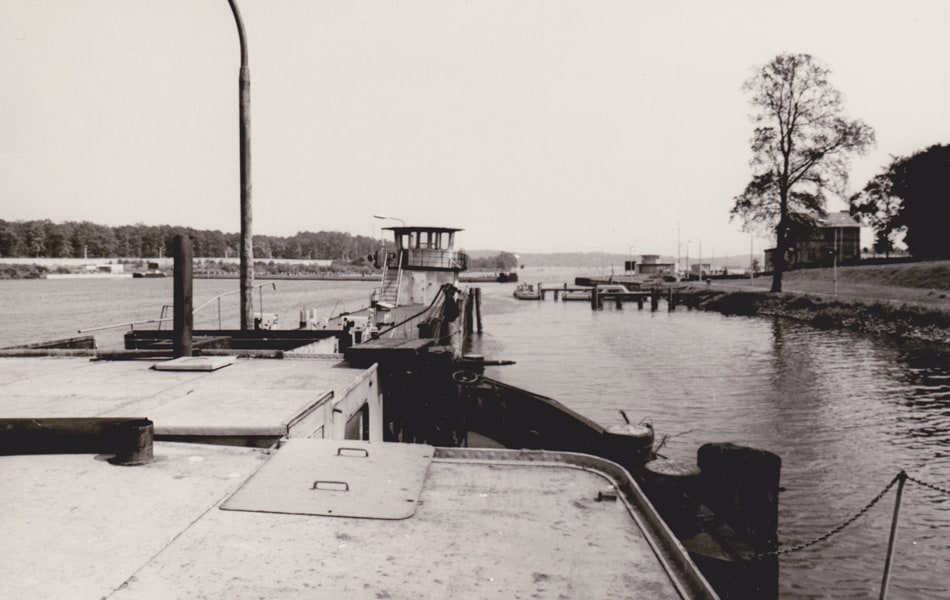 View from the inspection vessel anchored at the border crossing (undated) - Photo: Privatbesitz
The GDR set up a total of eight checkpoints for cross-border inland navigation on the waterways of Berlin and its environs: Britz branch canal, Osthafen (East Harbor), Marschall Bridge, Kleinmachnow, Dreilinden, Hennigsdorf, Babelsberger stait und Nedlitz.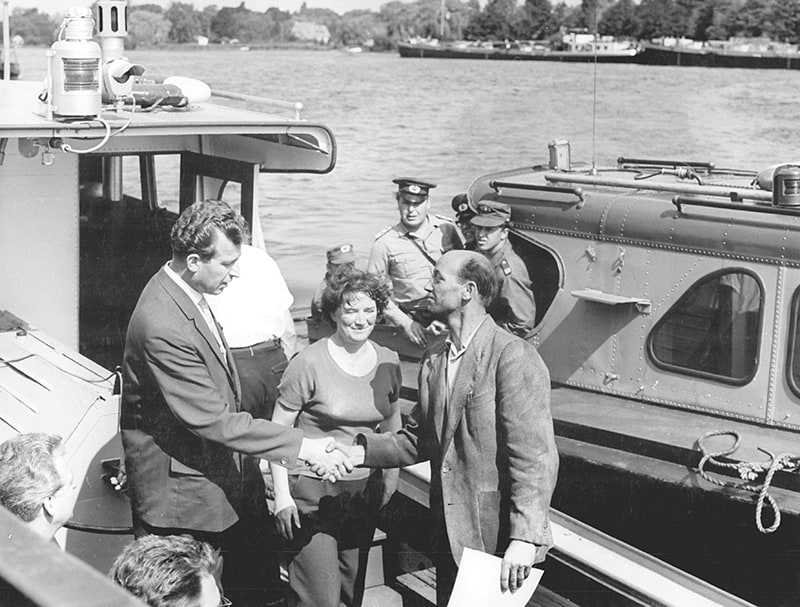 This East German press photo depicts a West German captain being issued a transit permit in Nedlitz in 1965 - Photo: Bundesarchiv, Klaus Franke, Bild 183-D0701-0026-001
Nedlitz maritime border crossing was originally located on Weisser See lake, north of Jungfernsee. After going through passport and customs control, the ships and barges crossed Jungfernsee unguarded until they reached Glienicke Bridge and the actual border. To make the inspection of ships more effective, in 1964 the passport and customs-control office was set up at Bertini strait at the narrowest eastern part of Jungfernsee. From here it was a mere 1.2 km (three-quarters of a mile) to the »state border« abutting West Berlin. This is where travelers to West Berlin were cleared and, later, after closure of the border crossing at Weisser See in 1970, those entering the GDR as well.
The transit waterway was mainly used by large transport ships and barge trains, delivering minerals and fuels from West Germany to West Berlin. A 1973 agreement between the West Berlin Senate and the GDR provided for the transportation of building rubble and refuse from West Berlin to the Ketzin and Deetz landfills near Potsdam. The GDR received Western (hard) currency in return. With the opening of Teltow canal in 1981, the number of ships crossing the border increased yet again.
The shore and docking area was modified and expanded numerous times over the years to deal with the high volume of traffic. The old quay wall, still visible today, indicates the original shoreline before part of the bay was filled in to enable the construction of additional landings in the mid-1980s.
All controls at the inner-German border were discontinued as of July 1, 1990.
Video: Bertinistrasse between the Meierei and Villa Jacobs, 1990–2 to 2009
Source: www.ivp-potsdam.de