The Meierei
in the restricted zone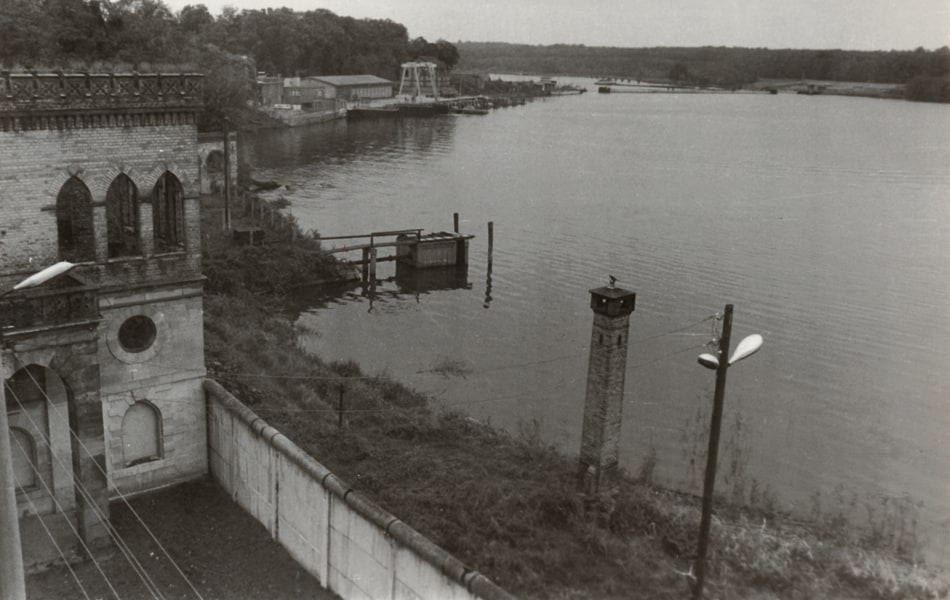 The Meierei and boat-company harbor in the border strip (ca. 1985) - Photo: Potsdam Museum - Forum für Kunst und Geschichte, Sammlung Fotografie
Several escapes to West Berlin were made across Jungfernsee from the ruins of the Meierei in the border area. Originally built as a dairy farm and brewery for court society, the Meierei became a popular café-restaurant for day-trippers after World War I. It was partly destroyed by a fire while occupied by the Soviet army. The ruins of the Meierei were located in the border area as of 1963. Escapees used it as a hiding place, since the grounds were hard to monitor. No less than eight successful escapes to West Berlin were made from here across Jungfernsee, using the ruins as a cover.
An electrified signal fence abutting the Meierei (1989) - Photo: Potsdam, Neuer Garten, An der Meierei/SPSG/Peter Rohn
Hubert Hohlbein was one of these escapees. Equipped with a diving suit and weight belt, he swam across Jungfernsee to the shores of West Berlin in November 1963.
East German border troops requested that the ruins be torn down to prevent further escapes. The Meierei remained intact, however, since the building housed a working pump station that provided water to the park grounds, and building a new one would have been too expensive. All of its windows were bricked shut. In addition, a single female pensioner, presumably the widow of the former pump attendant, who'd been living in a wing of the building was resettled. Access to the pump station was henceforth only possible in the accompaniment of a border guard.