The boat company
of East German
border troops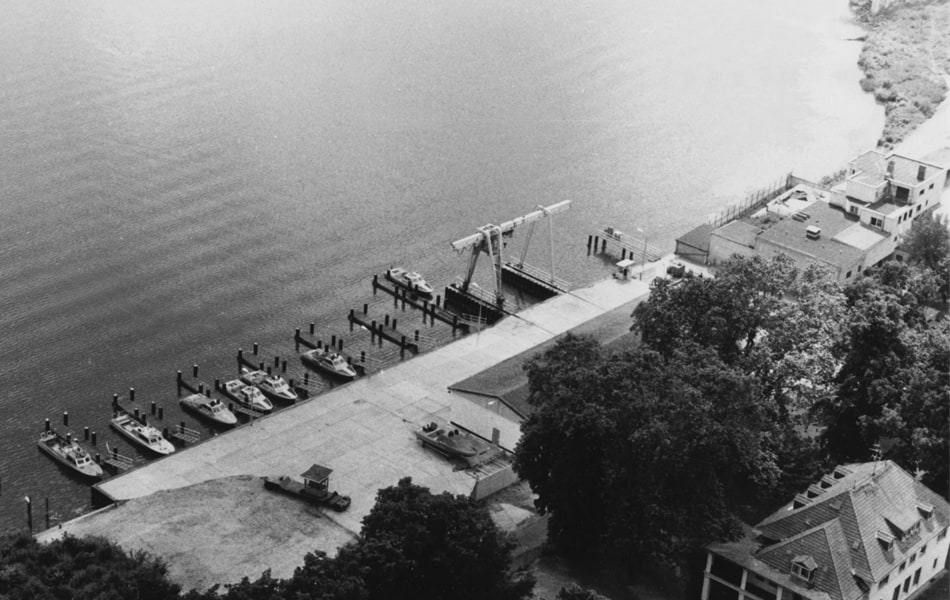 The harbor of the boat company with Villa Starck (bottom right corner) and Villa Hagen (1990) - Photo: BStU, MfS HA III Fo 263 Bild 18
A boat company of East German border troops was stationed on the grounds of Villa Starck between 1965 and 1990. The boat company was entrusted with the task of observing Allied and West German military, police and customs boats as well as preventing supposed »border provocations« by West German pleasure boats. Their primary task, however, was thwarting waterborne or underwater escapes. Border-security boats patrolled Jungfernsee, the Havel and Griebnitzsee.
Built in 1921, Villa Starck was used as a base and a dormitory for officers. The villa owner, Hermann C. Starck, was convicted and expropriated by the Soviet occupying power for his involvement in the Nazi armaments industry.
The rose garden of Villa Starck was replaced by a boathouse with a loading crane. These facilities were expanded in the 1970s with the addition of a garage and prefabricated barracks (»Plattenbau«).
In September 1985, a member of the East German waterway police managed his escape from here. After lunch at the mess hall on the base, his colleagues went shopping at Konsum supermaket in violation of service regulations. The policeman took the chance and boarded his patrol boat unnoticed and, simulating a routine patrol, piloted it straight to West Berlin. He left his bag with weapon and official papers dangling from a pole on the shore of Jungfernsee lake.
The border troops were disbanded in 1990 and some former members of the boat company were put to work in demolition squads, tearing down the border facilities.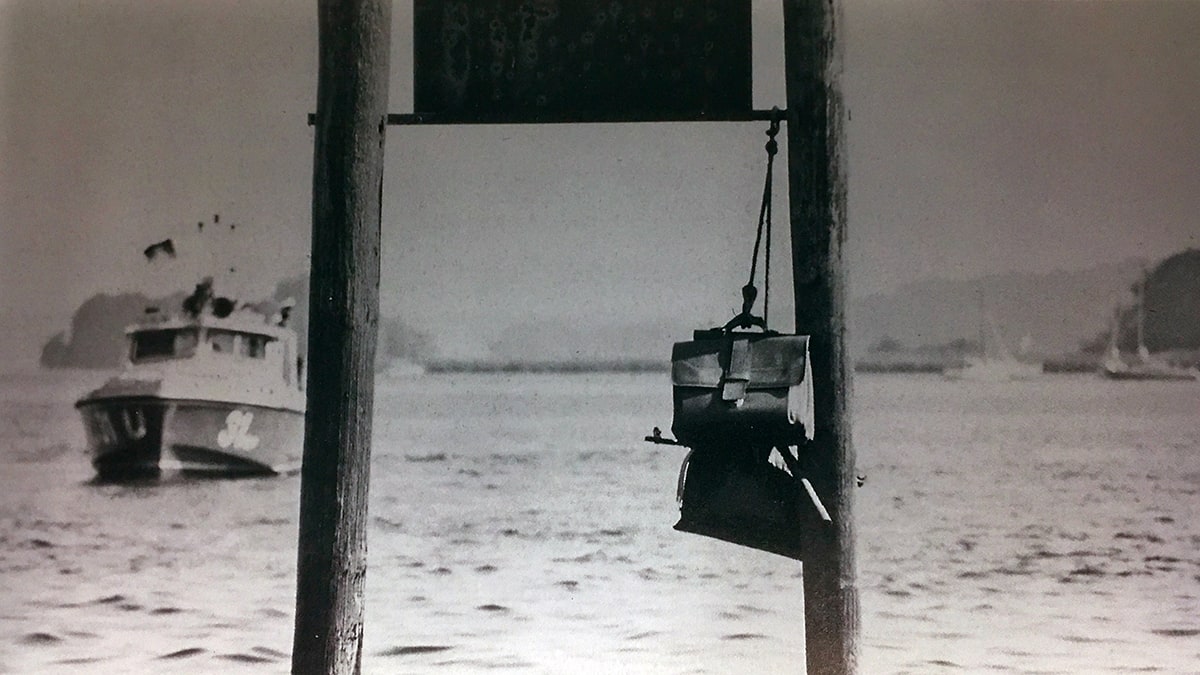 Successful escape of an East German policeman in 1985, who left his weapon and official bag hanging from a pole on the shore - Photo: BStU, MfS BV Pdm AU 2688/87 Bl. 42
After years of negotiations, the property was given back to the children of Hermann C. Starck. After their death the property was sold to private investors and reparceled. Nothing remains of the boat-company barracks, the boathouse and its crane. The boat-company barracks were torn down in 1992. The photos document the demolition process.
Demolition
of the border barracks
The border barracks of the boat company were torn down in 1992. The photo series shows the process of demolition.